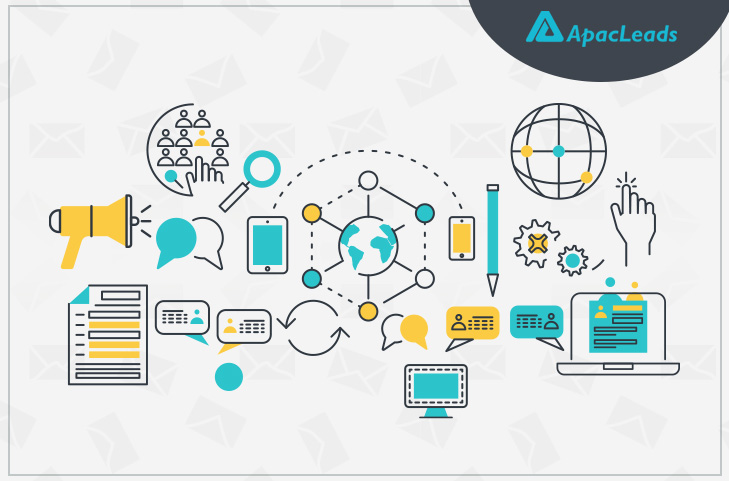 March 15, 2022
In today's competitive digital market era, email marketing is an excellent tool to keep potential and existing customers engaged. You can reach out to them with your messages to influence their behavior. You must plan your marketing strategies to launch an effective email marketing campaign to get maximum results. The pre-pandemic and post-pandemic situation changed customer preferences and their buying behavior. Therefore, marketers were forced to revamp their strategies for better results.  Moving forward, let's explore the 10 Most Promising Email Marketing Trends to look out for in 2022.
Personalization and Privacy
Having a proper well-segmented B2B email list of potential prospects, existing customers, former customers will no longer be enough. Now is the time for you to concentrate on sending personalized emails. You must ensure the body content, subject lines, timing, and the offers you present are especially for your targeted customer to increase open rates, faster response, and conversions. Customers are concerned about sharing their personal data. They must be informed that their data is safe with you and will not be hacked or sold to the highest bidder. When they have your assurance they will not hesitate to share their information and your click-throughs and sales conversions will improve. 
Artificial Intelligence
Most companies, digital marketing services, and email management platforms will be taking advantage of AI to analyze data. Companies and marketers can manage their email lists, create compelling subject lines and offers, and even identify the best time to send email campaigns to engage their customers. Therefore, artificial intelligence accelerates your email marketing strategies and ROI.
Dark Mode in Emails
Most people have adopted the dark mode trend to access their emails which Apple launched and later Gmail introduced this dark mode for Android, iOS devices, etc. If you want your emails to be read, you should start designing a dark mode compatible email.  Emails designed with this new display setting have a high deliverability rate as email clients will start supporting dark mode in the coming days.
Interactive Emails
Today recipients get bored with dull email content. They expect to be engaged with your content and the best way to do this is to include surveys, gamification, polls, rollover imagery, and other compelling content. By sending engaging information you are likely to turn passive readers into responsive and interested prospects. Moreover, by adding survey and poll results you will create social proof and provide messaging insights that can be used in your future emails to improve open rates, click-through rates, and sales conversions.
Plain and Minimal Text Emails
While interactive emails work for some, they may not work for all. Some people prefer very little text as they are likely to get bored with long email content. Plain text in emails with minimal content will keep the readers focused on your message and you will be able to engage them with your offers and deals. 
User-Generated Content
User-generated content has been the foundation of social media marketing that can be equally effective in email. Therefore, it is best to add customer reviews, testimonials, case studies as social proof that customers are using your products and services. When recipients read customer reviews, they are likely to be more influenced to buy your product which can improve click-through rates and have a significant influence on conversions.
Adoption of BIMI
Today users recognize the brand logo even before opening the email. Therefore, Brand Indicator for Message Identification will allow website owners to partner with email clients to display their brand logos next to their email messages. The subscriber will instantly recognize the brand that will encourage them to open your email. Displaying the brand logo build trust and increase the authenticity of your email. It will enhance brand visibility and market reach and even shield against fraudulent and phishing emails. It even ensures a higher deliverability rate and increases your email conversion rates.
Mobile Optimization and Short Form Emails 
Most people are using their mobile devices to access the internet than desktop computers. Therefore, your email campaigns, social posts, etc. should be mobile friendly and offer a positive mobile user experience. By incorporating this you are likely to capture the attention of prospects and customers who would otherwise ignore your email. With attention spans are getting shorter, emails with less content work better than long ones. People are flooded with digital information which is available at the click of a button. If you are promoting complex products, you can add hyperlinks to your emails. They will be more effective than sending a long email. 
Landing Page Quality
If you want to boost your email marketing campaign results in 2022, then make sure to focus on your landing page quality. It is important for recipients not just to click-through, but they should also convert when they reach your landing page. So, make sure to invest your time to improve the quality of your landing pages as it will require excellent copywriting skills and conversion rate optimization knowledge.
Visual Email Marketing
Visual email marketing campaigns have gained immense popularity in recent times as human minds are programmed to process visuals faster than text. There are different types of visuals email marketers are using today. For example, 3D images, static images, videos, GIFs, illustrative animations, etc. are used in emails to attract your subscriber's attention. It is proven that visually rich emails stand out in the subscriber's inbox and have an increased conversion rate. Marketers are using visuals in their email marketing strategy and designers are experimenting with multiple layouts, gradients, textured backgrounds, monochrome designs, etc. to add visual life to the emails. So, make good use of visuals in your email campaigns to enhance the overall appeal and make them impactful for the readers.    
Conclusion: 
Although people were stuck in their homes during the pandemic business improved their sales and conversions because of digital marketing. Marketers were ecstatic at the growth in sales they could achieve through email marketing campaigns. 2022 has opened its doors for digital marketers and it is for them to effectively adopt the 10 Most Promising Email Marketing Trends to take the business forward. Marketers need to put more effort into designing their email marketing campaigns and make them more rewarding in terms of sales and conversions.