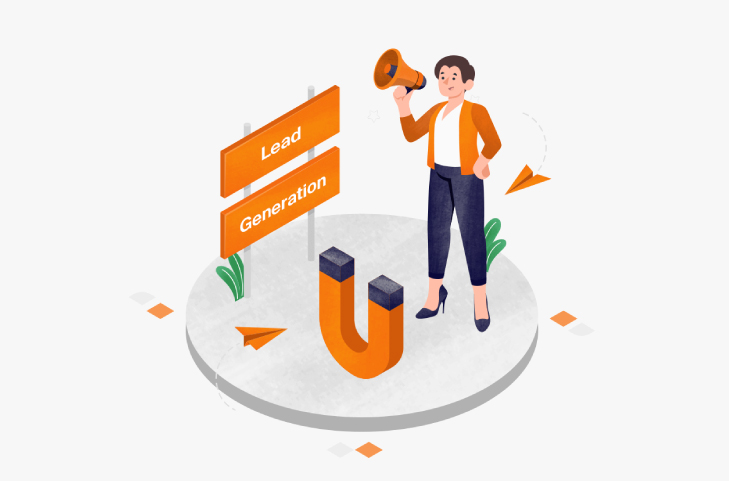 September 15, 2022
Lead Generation for B2B Companies involves gathering potential customers' information such as name, email address, company name, job title, etc. These contact details can be used to target prospects with customized sales pitches and ad campaigns to help maximize your ROI.  Marketers are implementing different B2B lead generation strategies to improve conversion rates. Here are the most effective B2B lead generation strategies that will improve your company's ROI.
Content Marketing 
Businesses want to keep themselves updated about new products before making a big purchase. If you have interesting articles, and videos to share that will make your clients happy then you should make it work. Your content must provide value to your audience that will help your credibility and also increases your reach and exposure.  Publishing valuable content frequently that informs, educates, and entertains your target audience, you are sure to earn their loyalty. It shows your commitment to providing them with valuable content that addresses their concerns. Once you have gained their trust you can easily convert them to leads. You can use platforms like Quora and Medium that can also help generate traffic to high-intent landing pages.
Personalize More Touch Points
Customers prefer personalization as it allows them to connect and build more meaningful relationships with brands. Most consumers are willing to share their data in exchange for personalized offers, product recommendations, and customized shopping experiences. You can use customers' content consumption behavior to present them with personalized content.
Google Ads to target Competitors' Audience
Google Ads are highly effective as they allow you to target your Google Ads campaign to people who have received emails from your competitor. You will be able to directly connect with people who are already familiar with the nature of your service and improve both click-through rates and impressions. If you want to stay ahead of your competitors then make use of this opportunity to optimize your email marketing layout giving them an offer they can't refuse.
Engage Prospects with AI Chat Bots
Chatbots are AI messaging-based bots that can independently engage your website visitors and automate business transactions. AI processes text or speech input by your prospect and sends a suitable response giving your prospects a seamless interaction. Integrating AI into your lead generation strategy will certainly create new avenues for process efficiency and optimization. 
Automate Social Media Sharing
Promote your content on Facebook, Twitter, LinkedIn, and any other social platform used by your target audience to boost your digital footprint. If you don't have time to build your network, you can use various tools and apps that are available for automating social media or scheduling posts, shares, likes, tweets, and any other social engagement you can think of and even make sure you are sharing content optimally.
Optimize Your Website for Mobile
Today, B2B online queries are shifting from personal computers to smartphones. The reason being more B2B employees are from the digital generation and the increasing use of smartphones by older generations. It is noticed that mobile plays a significant role in recent purchase and the average share of total revenues are influenced by mobile. Mobile can accelerate time to purchase by increasing efficiency in decision-making and enhancing team collaboration. It is beneficial to optimize your website for smartphones to help your buyers make business decisions efficiently. It is important to consider mobile in an Omni channel customer journey and find new and improved ways to reach and engage your prospects.
Work Closely with Your Sales Team
When sales and marketing teams work together they are likely to achieve the best results. Sales personnel directly interact with prospects and provide you with the required feedback so that you can get a clearer picture of your buyer persona. This usually results in higher conversion rates and improved ROI.
Harness the Power of Micro-Influencers
Influencer marketing is as strong as ever, and brands today are making use of influences in a big way. Lesser-known influencers might have fewer followers, yet their relative level of influence remains the same. Popular influencers are very expensive, and they are extremely picky about who they work with. Companies can leverage micro-influencers as they are untapped despite their huge potential for reaching new audiences effectively and they cost less.
Profile Your Target Audience
Understand your target audience's pain points, challenges, goals, and buying behavior. Create effective buyer personas and address them with an innovative product or content offer that will shape your content marketing strategy.
Stay on Top of Google
It is noticed that almost 90% of users don't go beyond the first page of SERPs. Therefore your website must rank on the first page of Google as this is a much-coveted spot. Getting your business on that first page establishes you as an authority in your niche.
Summary
B2B lead generation for B2B companies is not easy. However, using the right strategy will work wonders for you. So, the key here is finding a strategy that works best for you, and in most cases, it all comes down to knowing your audience and how they interact with your business. If you are looking to maximize B2B Leads and conversions then following the above-mentioned strategies will enable you to achieve your goals.